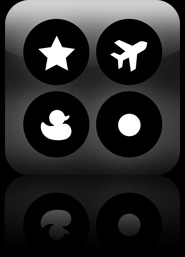 Name:
Nib Clock
/ Price:
USD $1.99

Version:
2.0
(
» version history
)
Requirements:
iPhone
or
iPod touch
Running OS
3.1
software or later.
Language :
日本語
/ English

Smooth animation & Stylish icons
NibClock is an incredibly simple, cute ("kawaii") and stylish analog clock.
Customize an animated icon for the tip of the second hand. Once it's chosen, the icon keeps travelling around. Some icons move sedately. Others move violently or even grotesquely.

The hands move in one of three ways: normally, abruptly or smoothly. Depending on the movement settings, the icon may look weird or wonderful. Those looking for a multifunctional clock application may not be as satisfied, but it boots up quickly because of its simplicity. The simple clock design with stylish animated icon is sure to please everyone. It's just the thing for those who are tired of their clock application.Put the phone on a desk and try it out for fun. And of course you can take it with you into town.
Features
- 32 icons for the second hand
- Icon size switching (large, medium, small)
- 3 types of movement (Normal, Abrupt, Smooth)
- 5 types of Dial plates
- 5 types of hands
- Color switching (white and Black)
- Landscape layouts
Credit
Design, Programming : Masaki Hoshino (HYBRIDWORKS inc.)
For the latest information, please follow the Twitter
@hybridworks
.
v2.0 - Oct 16, 2010
- Support for iPhone 4 Retina Display, iOS4 multitasking.

v1.5 - Jul.15.2009
- 15 new icons were added.

v1.2 - Jun.01.2009
- Five icons have been added.